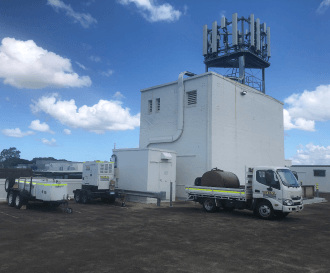 Throughout the Brisbane Floods Total Generators assisted many customer with Power Requirements to get them back running whilst the mains power was out of use due to damage. No matter what your specific needs are, Total Generators is ready to deliver!
Scope:
Manage temporary power for a Telstra Tower in Toombul with recent flood damage.

Challenges:
Due to extensive flood damage the site had weight restrictions for delivery on access to the top level of a building due to structural damage which is where power was required.

Total Generators Solution:
Provided Trailer Mounted Generator & Trailer Mounted Fuel Cell which was towed in rather than utilising a tilt tray.

Result:
Temporary Power established for the period required which meant no interuptions to the local Telstra needs.