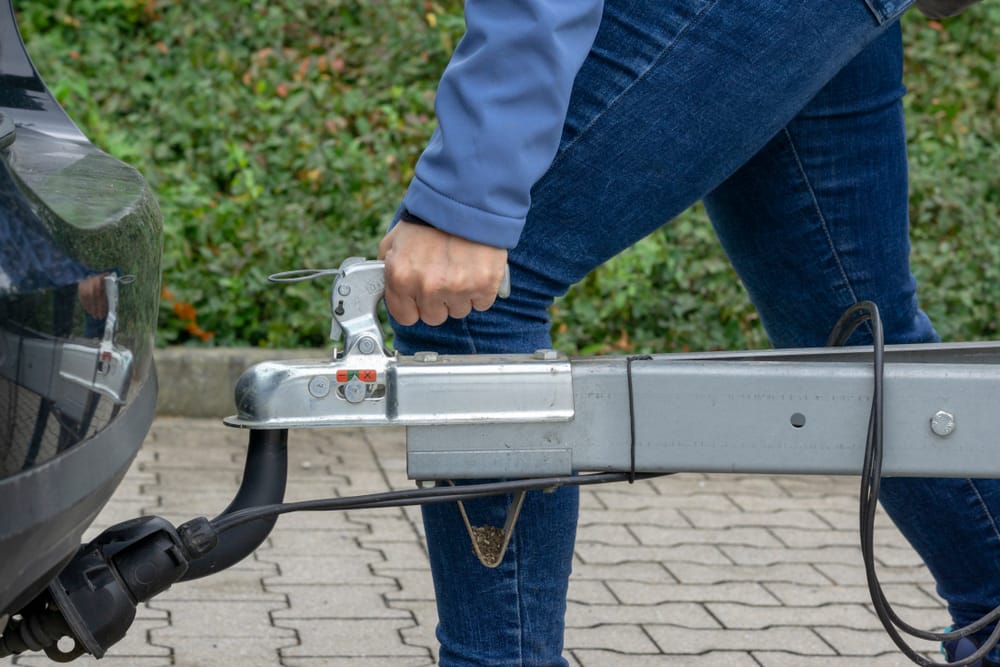 Things to Consider When Hauling a Trailer-Mounted Diesel Generator
When you're on the move, you need a generator that can keep up with you. A trailer-mounted diesel generator offers both power and portability, making jobs easier for you and your team.
Portable generators are quick and simple to transport to your job site or to move between multiple job sites. You can quickly attach them to vehicles and just as quickly remove them to use or store, which makes them handy units to rent for both short and long-term jobs.
Despite their smaller size, a trailer-mounted diesel generator is just as sturdy, tough and dependable as any other generator out there, with the added benefit of being easy to hitch to your vehicle before you hit the road.
That doesn't mean there's no preparation involved before you go towing a generator along the motorway. From laws and regulations right through to safety precautions and technical details involving weight and trailer capacity, there's plenty to think about when you're hauling a trailer-mounted diesel generator.
A generator is a device that takes mechanical energy from an engine, an alternator and an outside source of fuel and turns it into electrical energy. In this case, that fuel source is diesel. As long as safety procedures are strictly followed, portable generators let you power up electrical equipment and appliances even in remote locations off the power grid.
Dos and Don'ts When Towing A Trailor-Mounted Generator
Preparation is key when it comes to towing a generator on the road. Here are some dos and don'ts to keep your journey a safe one:
Do:
Drain the fuel before you transport the generator. This reduces the weight as well as the risk of spillage or, in the case of an accident, fire.
Check for hitch ball compatibility and make sure that your vehicle's hitch matches the one on the trailer.
Check your tyre pressure. Make sure the tyres on both your vehicle and the trailer are inflated properly before you set off on a long journey.
Follow the relevant guidelines. Refer to the owner's manual of your vehicle and the instructions of Total Generators regarding the care of both.
Adjust your approach to driving if necessary. Plan your trip in advance, make wider turns when you need to, allow for longer stopping distances and drive in the left lane in case you need to pull over and let traffic pass.
Don't:
Neglect maintenance and safety standards. Ensure that the brakes, lights and other safety features of the trailer remain in good working order.
Speed, rush or drive erratically. Slow and steady is a better approach when you're towing a trailer-mounted diesel generator.
Ignore weather conditions or local rules or regulations. It's important to be prepared for whatever conditions your travels may bring.
Fail to prepare for flat tyres and other issues. Getting stuck on the side of the road is the last thing you want.
Neglect to take breaks. If it's a long trip, make sure you occasionally stop to rest and check on the equipment.
Vehicle Requirements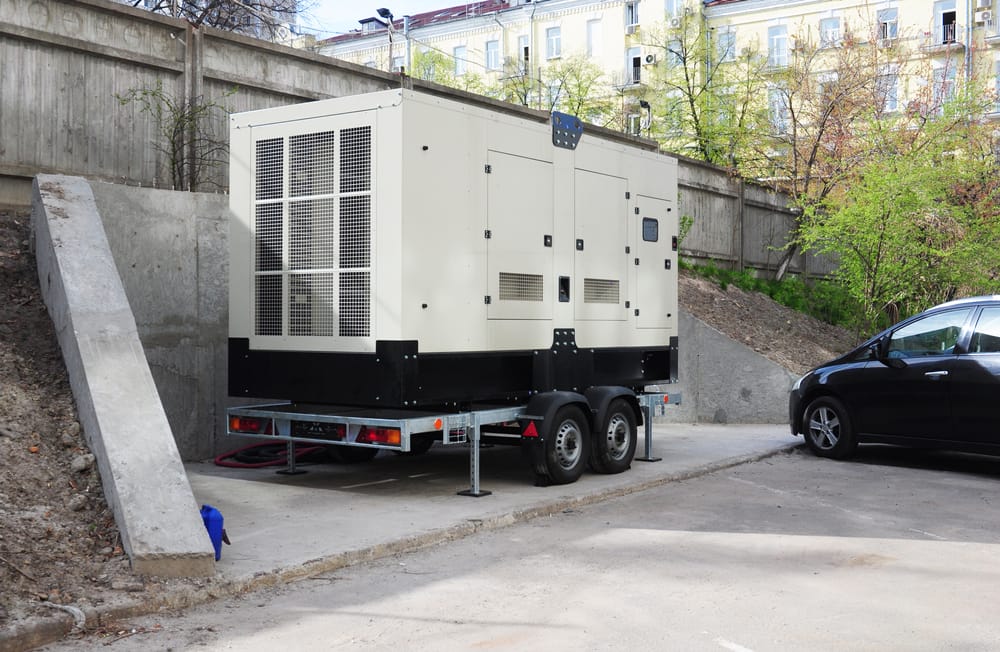 The Department of Transport and Main Roads in Queensland has legal requirements and regulations to observe when towing a trailer or a vehicle in Queensland. As the driver, you're responsible for safety standards, and that begins with selecting a suitable vehicle. Your owner's manual should tell you the maximum weight and trailer features that your vehicle can carry.
Towing affects your driving in a few significant ways. It reduces your acceleration and braking performance, your manoeuvrability and the fuel efficiency of your vehicle. It's important to expect and plan for these things. In addition, your vehicle should be roadworthy and registered.
If you're unsure whether or not your particular vehicle is suited to towing a trailer-mounted diesel generator, it's best to check with the Department of Transport and Main Roads or the transport department in the state or territory you'll be travelling in.
Other Factors to Consider
There are some other key things to anticipate and plan for when you're towing a generator in Australia:
Towing laws and regulations
Before you set off on your journey, check the laws and regulations in the state or territory you'll be in for issues like licensing requirements for trailer towing.
Hitch pin security
Before you set off, make sure the trailer's hitch ball is securely attached and the hitch pin is in place so there's no danger of the trailer detaching.
Clearance
Make sure all the signals, lights etc., on the trailer are visible and that you have a clear line of sight when you drive.
Manoeuvrability of your vehicle
Bear in mind that attaching a trailer-mounted diesel generator, like any trailer, will change how your vehicle moves and handles. Remember to allow longer stopping distances and to give yourself extra room when you need to.
The weather and road conditions
Be aware in advance of projected weather, road hazards and other conditions that might make your journey more complicated, and plan for them in advance. Rain can damage a generator, and plugging in a wet generator can cause an electrical shock.
Tyre pressure
It's good to check that the tyres on both your vehicle and the trailer are sufficiently inflated. Low tyre pressure can affect your stability, which is never a good thing when you're towing a generator down the street.
Emergency equipment
If your car breaks down or any problems occur, you don't want to be stuck by the side of the road with a portable generator. It's a good idea to carry a spare tyre as well as the tools to change it.
Expert advice
If you need more information about how to safely transport and care for your generator, Total Generators will be very happy to help you.
Hire a Trailer-Mounted Diesel Generator from Total Generators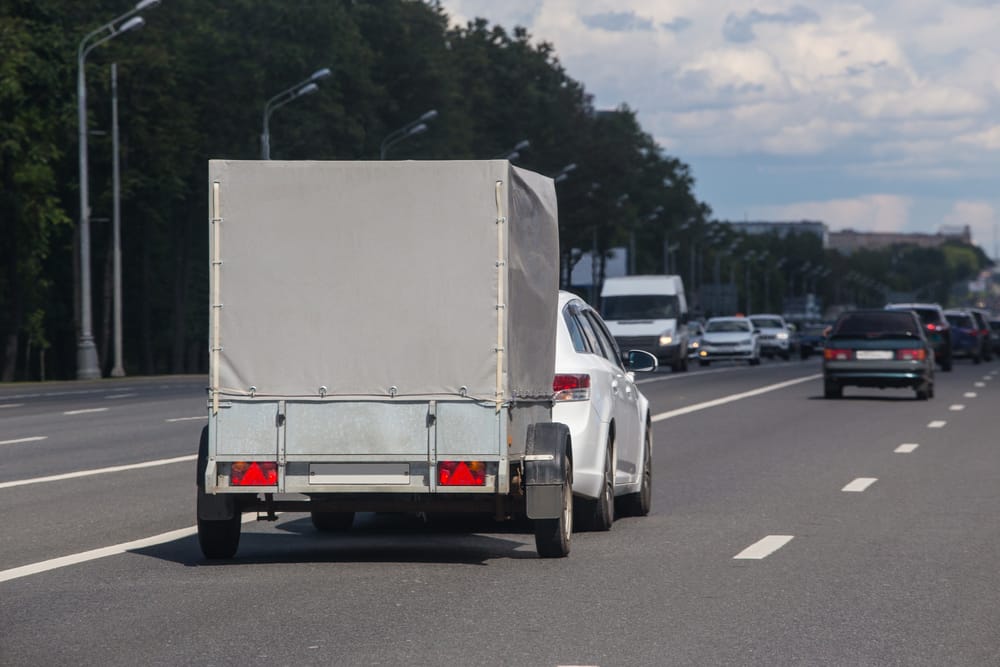 If you're looking for a trailer-mounted diesel generator, Total Generators are the preferred choice for many industries in Australia, including mining, railways, energy stations and defence.
Our comprehensive range of generators, including our portable generators, has been developed in collaboration with our global client partners in order to exceed Australian standards. Our trailer-mounted generators for hire provide you with the flexibility to take on any task, and our 24/7 emergency support means you're never on your own if anything goes wrong.
With 25+ years of experience powering Australian industries, Total Generators specialises in solutions to meet your unique requirements. We offer short or long-term generator hire around Australia, with depots in Queensland and the Northern Territory, super silent generator hire available, as well as routine service and maintenance as per OEM specifications. We can even offer you expert advice if you don't know which generator is right for you.
If you have a project in mind that requires a trailer-mounted diesel generator, contact Total Generators for a free quote.