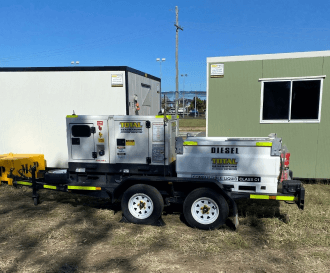 Supporting Pandemic Response with Temporary Power!
Supporting the Pandemic Response with Temporary Power! During the last 18 months, the team at Total Generators has been busy keeping power on to critical infrastructure needed to manage the risks with controlling the spread of the Covid19 virus. The need to provide power to additional work spaces and check in points, including testing stations was made easier by utilising the Trailer mounted 20kVA + 500L Fuel Cell combination units.
The trailer mounted combo can be easily deployed and moved around site with any vehicle with a 3 tonne or greater towing capacity. Once on site, connections are made simple with the distribution arranged with 32A, 15A and gland plate options. Having the 500L fuel cell has reduced the extra contact time by extending the refueling intervals by x7 times less!
We currently have these units across multiple mine sites, accommodation villages, airports and other major industrial sites. Feedback from clients has shown that being able to move these easily, reduce the man hours for refuelling, and minimise extra contact has been vital in managing their extra temporary power.
Do you need a set up like this to keep you up and running. Give us a call to discuss a solution that will best suit your requirements on 1800 064 766.