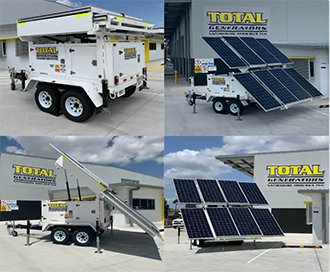 Total Generators takes delivery of our new Solar Hybrid Towable units!
Total Generators has taken delivery of one of our new Solar Hybrid towable trailer units. These can be towed by any 4WD with a 3000KG towing capacity. They come come complete with a battery and back up diesel generator for 24/7 running.
With renewable power options to become a part of Power Generation in the future we have moved a head of the pack.
Call the Brisbane office and talk to one of the friendly Total Generators team about our Solar Hybrid Power Generator options available.